LeBron James is the most talented player in the NBA today, but he is also one of the more versatile players to ever step on the court. With his ability to guard anyone on the floor as well as dominate offensively, he is the perfect option to play power forward for the Miami Heat.
While the Heat lack depth in valuable size, that didn't seem to slow them down last season. They were able to work a smart game plan which countered that weakness with true strengths.
We might not see this option happen right away, but don't be surprised to see James take over the power forward spot come playoff time. This will help crunch the deep rotation and utilize each player to their fullest ability.
A big reason, aside from James' talent, is the effect this move has on the rotation itself. Lebron is the ultimate team player in basketball because of his ability to open up so many opportunities for others around him, and this will prove exactly why.
With that said, check out how this move can make himself and the Miami Heat better when the time comes.
Spreading the Floor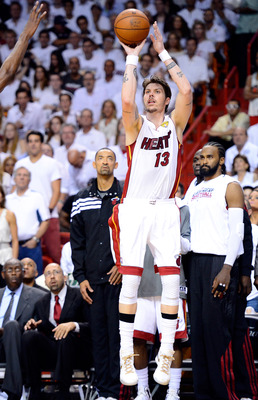 Ronald Martinez/Getty Images
One of the biggest reasons Miami was triumphant over the Oklahoma City last season in the NBA Finals was their ability to spread the floor. They were able to create an attack with various ways to get looks inside, as well as knock down shots from deep.
With an expanded arsenal of three-point shooters on the team, Miami is most dangerous when surrounding James and Wade with players who can hit from downtown. Bosh included, these guys are crucial to just how balanced of an offense the Heat can have.
From Mike Miller (when healthy) to Ray Allen, Miami has plenty of options when it comes to finding the right combination for many different scenarios on the court. However, come crunch time, this team will live and die on its ability to keep defenses guessing with so many possible options.
Improved Post Game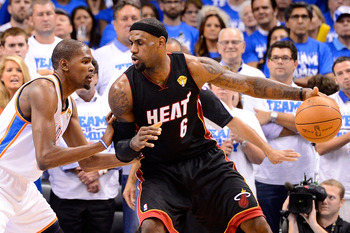 Ronald Martinez/Getty Images
Miami lacked a dominant post presence in the 2010-11 season, but that changed drastically last time around after LeBron looked much improved in this area. I guess that's what working with NBA Hall of Fame center Hakeem Olajuwon can do for you.
We know James can throw some incredible passes and be a monster while on the drive, but improving his post game makes him virtually unstoppable. Not only does this fill a huge scoring need for Miami, but it proves Lebron can do about anything offensively on the floor.
James shot a career high 53 percent from the field last season thanks to a tightened shot selection and more ability in the post. As he continues to get better as a player, it wouldn't be shocking for him to top that next season.
A Better Guard Rotation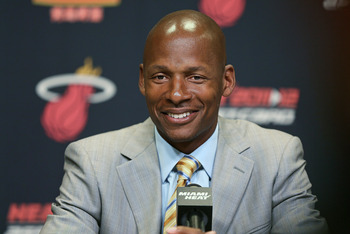 Mike Ehrmann/Getty Images
Didn't Miami just sign a future Hall of Fame shooting guard? With the newly added Ray Allen in South Beach, the Heat have four solid guards who should see significant time in the rotation.
We will likely see Dwyane Wade and Mario Chalmers resume their roles as the starting backcourt for Miami next season. That leaves the job of piecing in Norris Cole and the aforementioned Allen into the game for valuable minutes.
However, putting James at the power forward spot would allow Miami to run a possible three-guard rotation to allow for a proper lineup in crunch time.
We have heard the talks about a "positionless" approach for the Heat, which I am personally a big fan of, but putting in three of these talented guards is an optimal way to achieve ideal results. A combination of Chalmers, Wade and Allen in the fourth quarter gives Miami plenty of scoring options as well as guys who have shown ability to thrive in the clutch.
Miami has a vital forward in Shane Battier that should never be forgotten about, but it just shows Erik Spoelstra has a ton of worthy talent to work with next season.
Creates Mismatches for Opposing Teams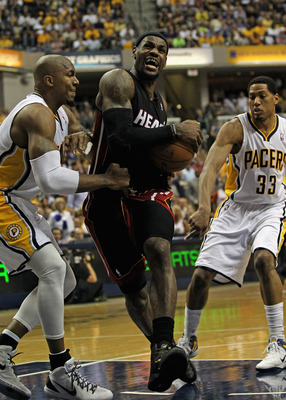 Jonathan Daniel/Getty Images
The most difficult task possible in the NBA could be trying to shut down LeBron James. He can hurt you in many different ways with the ball, but possesses the perfect mixture of size, strength and speed that can make him a puzzling assignment.
Very few power forwards in the league are gifted with both quick feet and a bruising frame of a body. That being said, it's hard to come up with the ideal defender to guard James.
He has the ability to drive past a slower defender, but can also draw fouls or overpower stronger defenders inside.
With the idea of playing more guards regularly in the rotation, it's not the worst thing in the world to put James at the power forward spot and create at least one possible mismatch in a man-to-man defense.
It will be difficult for any team to adjust to such a wide-open floor that the Miami Heat can create, which could be the make-or-break difference in terms of a championship.
Chris Bosh Can Play Center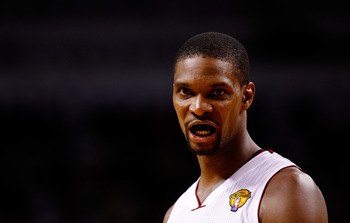 Mike Ehrmann/Getty Images
Hopefully you didn't expect me to dedicate a slide to Dexter Pittman, right? Miami's biggest weakness is a true center, but they can continue winning without one if they put Chris Bosh at the 5 position.
Bosh isn't a prototypical center by any means. He has height and length, but isn't known as the most physical player in the paint.
However, Bosh's best asset on the floor is his ability to draw a defender out of the paint with his solid shooting range. He is more of a finesse big man, but we have seen him continue to put up big games inside of All-Star seasons.
The best way for a team to cover up a weakness is to excel in strengths. If Bosh can be effective here, it'd mean less time for ineffective big men and more time for the guards and forwards who bring so much to Miami's success.
Bosh shouldn't necessarily start the season in this role, but should be focused on it come playoff time.
Begin Slideshow
Keep Reading

Miami Heat: Like this team?