You can't stop LeBron James. You can only hope to contain him.
The All-Star swingman for the Miami Heat has been a one-man wrecking crew ever since he arrived in the NBA as the No. 1 pick of the Cleveland Cavaliers in the 2003 draft. Few (if any) in the history of the game have ever combined size, speed, strength, athleticism and sheer basketball brilliance to such devastating effect as James has.
Don't expect the three-time MVP to pull his foot off the accelerator anytime soon, either. At 27 years of age, with the proverbial monkey off his back and his role as Miami's central superstar solidified, James is poised for a transcendent season in 2012-13.
Not that he hasn't played spectacularly throughout his pro career or anything. Rather, the pieces are in place for LeBron to take his game into even more rarefied air and firmly establish himself among the league's all-time greats in the process.
You can see, then, why any full-hearted attempt to shut James down has, is and likely will be futile. Still, that doesn't mean that his peers won't or shouldn't try.
Most will fail, sometimes miserably so, though these five defensive standouts should fare better than most in attempting to dislodge the King from his throne this season.
Kevin Durant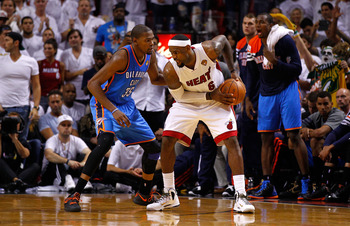 Mike Ehrmann/Getty Images
At first glance, it'd seem strange to expect Kevin Durant to so much as stand a chance against LeBron James on the defensive end. After all, James has an easy 15-20 pounds (if not more) on the Durantula and averaged a stunning 28.6 points, 10.2 rebounds and 7.4 assists per game in the 2012 NBA Finals against the Oklahoma City Thunder.
To be fair, Durant only guarded James on occasion, leaving most of the heavy lifting to Thabo Sefolosha while he carried the load on offense.
And while Durant may not have the strength or body mass to stop LeBron, he does have the requisite agility, leaping ability and length to make life more difficult for James than most. He owns a two-inch height advantage against the King and, with a wingspan of nearly 7'5", is long enough to disrupt LeBron's dribble, contest his shot and even force a turnover or two on occasion.
Durant would likely struggle against James in the post, where he's learned to use his physical gifts to devastating effect.
Then again, Durant would presumably be plenty motivated to bring his "A" game on that end of the floor against James after enduring such a bitter five-game defeat to the Heat in the Finals.
If these twoâ€"arguably the best basketball players on the planetâ€"were to be matched up against each other regularly, Durant, an ever-improving defender in his own right, would certainly be able to hold his own on the whole. 
Serge Ibaka

Pool/Getty Images
If Thunder head coach Scott Brooks weren't keen to have Durant, his star player, spend his energy defending LeBron, he might opt instead to stick Serge Ibaka on him.
As is the case with Durant, mass would be an issue for Ibaka against James. He, too, gives up approximately 20 pounds to the reigning MVP.
To his credit, the 6'10" Congolese shot-blocker is taller than LeBron and, like his superstar teammate, has the requisite length and lateral foot speed to be a pest when defending James on the perimeter.
And though finishing as the runner-up in the 2012 Defensive Player of the Year may have been a bit too flattering given Ibaka's actual performance, he was still worthy of the All-Defensive team nod he received and ranks among the game's most effective swat men.
On the flip side, Ibaka is far too susceptible to pump fakes and the like. A player as skilled and savvy as LeBron would have a field day baiting Serge into leaving his feat and either drawing fouls or winding up with wide-open shots as a result.
That being said, if Ibaka adds a dose of discipline to his defensive game anytime soon, he may yet turn out to be a worthy adversary for LeBron in that regard. 
Luol Deng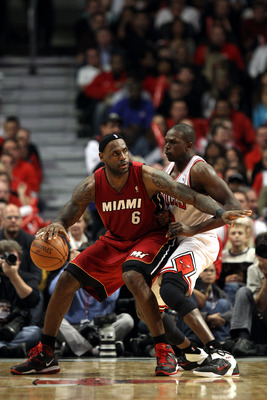 Jonathan Daniel/Getty Images
Statistical comparisons aren't exactly fair when considering who might best be suited to defending LeBron James, in large part because doing so is a team effort.
Also, it's not exactly fair to those, like, say, Luol Deng, who've done well to make LeBron sing for his proverbial supper, at the very least.
Not that LeBron's career numbers against Deng's Chicago Bullsâ€"31 points, 7.2 rebounds and 6.0 assists in the regular season, and 28.8 points, 8.5 rebounds and 7.4 assists in the playoffsâ€"would make anyone think he had a hard time operating against their now-stifling defense under Tom Thibodeau.
In any case, Deng has firmly established himself as one of the premier defenders at small forward in the NBA today. His sturdy frame, sneaky athleticism, long arms, quick hands and even quicker feet make him a natural fit to shut down the other team's best wing player on a nightly basis.
Of course, when that wing player happens to be LeBron James, the task is just a wee bit more difficult. For Deng, though, he can lean on his litany of past successes and failures to figure out how best to defend the preeminent player in the game.
Even if the gap between knowing and doing is tough to bridge at times.
Paul Pierce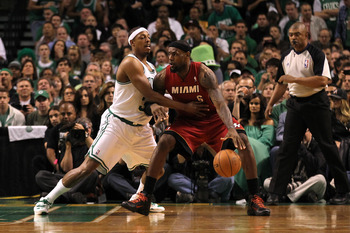 Jim Rogash/Getty Images
In all honesty, Paul Pierce's time as a worthy one-on-one adversary for LeBron James may have come and gone. The future Hall-of-Famer did well to slow James down during playoff series in 2008, 2010 and 2011, as his Boston Celtics knocked LeBron's teams out of the postseason on two occasions.
LeBron, though, turned the tables rather decisively this past spring, when he sprung for 33.6 points, 11 rebounds and 3.9 assists as his Heat stormed back from a 3-2 series deficit to advance to the NBA Finals. James' 45-point, 15-rebound, five-assist masterpiece, with Pierce looking on, was evidence of as much.
Clearly, at the tender age of 34 (going on 35 in October), Pierce isn't the same menace at small forward that he once was, and can no longer claim to be in LeBron's noggin.
Especially since Ray Allen switched his allegiance to South Beach.
Still, The Truth is one of a handful of players at small forward who are strong and hefty enough to so much as put a dent in LeBron's seemingly impenetrable armor. With a former Defensive Player of the Year in Kevin Garnett by his side, Pierce could be the key to the C's supplanting the Heat atop the Eastern Conference this season. 
Metta World Peace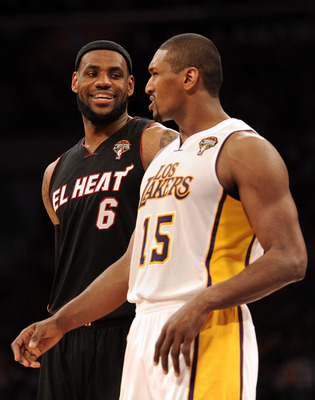 Harry How/Getty Images
Speaking of old guys and former Defensive Player of the Year winners, Metta World Peace could turn out to be a significant stumbling block between King James and a second consecutive Larry O'Brien Trophy.
That is, assuming the Los Angeles Lakers' latest super team gels as well as some think it will.
Even at 32, The Basketball Player Formerly Known as Ron Artest remains one of the foremost physical specimens at small forward, with a 6'7, 260-pound frame capable of not only holding up against LeBron, but dislodging him from his favorite spots on the floor.
To be sure, time has not been kind to MWP's lateral quickness, nor has it helped him to maintain his once-chiseled physique.
However, his hands are still as quick as ever, and as he showed over the course of last season, his conditioning has improved and will only get better amidst the routine of the NBA season.
And, to MWP's credit, he's managed to limit LeBron to a relatively modest line of 25.7 points, 6.7 rebounds and 6.6 assists in 16 career meetings during the regular season.
Whether or how that would change in the playoffs remains to be seen, though it's a distinct possibility now that World Peace can count on Dwight Howard and Steve Nash among his teammates in LaLa Land.
Begin Slideshow
Keep Reading