In a mere matter of hours, the 2012 NBA Finals between the Miami Heat and the Oklahoma City Thunder will be underway. 
Of the many story lines heading into this year's finals, the headline of the series comes down to one marquee matchup. 
LeBron James vs. Kevin Durant. 
James, a three-time league MVP, and Durant, a three-time NBA scoring title champion, will face each other in what is being called the first superstar matchup in an NBA Finals since Magic Johnson and Larry Bird. 
On paper, the series looks like it will go at least six, maybe seven games. 
But more importantly, no matter who wins, James or Durant will get a ring. 
Now of course the speculation after this series will be who is better, LeBron or Durant?
It's easy to say whichever team wins will determine who is the better player, but the fact is that the series will only continue this debate between James and Durant fans. 
Keep in mind that before this series, LeBron James had always been compared to either Kobe Bryant or Michael Jordan. 
The Bryant-James debate has been relevant for many years (although quite one-sided in terms of championships), and for some, so has the Jordan-James comparisons, especially with the recent comparisons of both Jordan and James at age 27.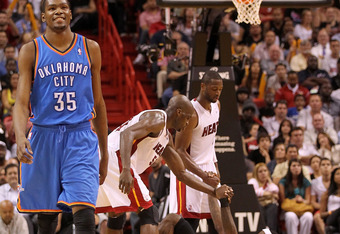 Despite a lack of experience, Durant (left) is ready to take down LeBron James (center on the floor).
Mike Ehrmann/Getty Images
Whether the comparison is warranted is for another article, because this article focuses on the here and now. 
And right now, at age 23 and making his first NBA Finals appearance, Kevin Durant is the better player. 
Yes, James has won three MVP awards. 
Yes, James is making consecutive appearances in the finals for the first time in his career. 
Yes, James is having a great postseason. 
And yes, James is looking to finally end the talk of his inability to stand out when it counts. 
But here are some things about Kevin Durant that must be brought into the conversation. 
Kevin Durant has been in the league for just five years, but he's already made a considerable impact. 
Drafted 2nd overall in 2007, Durant was one of the last players ever to wear a Seattle SuperSonics uniform, and one of the original members of the Oklahoma City Thunder.
He was the Rookie of the Year in Seattle's final season of 2006-07. 
He played through a miserable 2008-09 season in which the Thunder went 23-59. Despite the tough season for the team, Durant became the youngest player to ever win an NBA scoring title.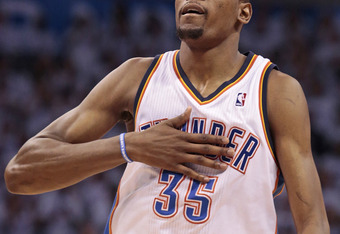 Kevin Durant celebrates hitting a shot in Game 6 of the Western Conference Finals against San Antonio.
Brett Deering/Getty Images
He then helped the team come back with an impressive 50-32 record, making it to the playoffs only one year after moving from Seattle. 
Along the way, Durant racked up a second consecutive scoring title, and in the next season, helped the Thunder reach the Western Conference Finals. 
Now after a shortened season and another scoring title, Durant and the Thunder are in the Finals. 
In comparison, James won Rookie of the Year honors in 2003, led the Cavaliers to consecutive playoff appearances in 2005-06 and 2006-07 leading the Cleveland Cavaliers to the NBA Finals that season.
Every season since 2007, the Cavs enjoyed success as one of the Eastern Conference's elite teams, with James winning his only NBA scoring title in 2008, and capturing MVP honors in 2009 and 2010. 
Now in their respective first four years in the league, James and Durant led their teams to NBA finals, while posting dominant numbers. 
But what separates Durant from James is the two extra scoring titles, doing so with a relative lack of fanfare that James has managed to pull in with his time in Cleveland and of course, "The Decision".
Numbers-wise, James and Durant have each averaged around 25 PPG during their respective careers. 
But the mere impact that Durant has made so far for a small-market town cannot be ignored.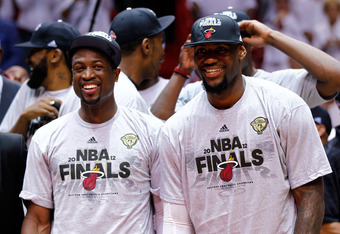 Dywane Wade (left) and LeBron James (right) will need to carry the Heat in this series.
Mike Ehrmann/Getty Images
He does have considerable help from a deep roster that includes stud point-guard Russell Westbrook, sixth man of the year James Harden, and a fantastic shot-blocker in Serge Ibaka. 
Looking back on his early years, LeBron James had little help during his time in Cleveland, one could reasonably argue. 
Then again, James hasn't exactly dominated the league until this year since taking his talents to South Beach with fellow superstars Dwyane Wade and Chris Bosh.
Bosh and Wade have had more experience than most players on the Thunder, excluding Derek Fisher and Kendrick Perkins.
And while both players have star players for teammates, Kevin Durant has made clutch shot after clutch shot during this postseason. 
He's averaged a consistent 27.8 PPG in this year's playoffs in contrast to LeBron's impressive 30.8 PPG. 
However, Durant has scored at least 25 points in every playoff game, where James has had nine 30+ point games, but one 19-point game against the Knicks in the first round. 
And up until his 45-point masterpiece in Game 6 of the Eastern Conference Finals, James had been reluctant to be the leader of the Miami Heat. 
Nit-picking or not, Durant has consistently scored at a high level. 
The numbers will carry over and Durant will outlast James in this series. 
But in the end, the numbers will be thrown out the window later tonight when the Finals tip off.
Hold on tight, folks. 
The madness is fast approaching. Â