The NBA and the related offshoots seems to have some of the most interesting personalities in all of sports. At the very least, they are the most visible and some of the most outlandish people in the public eye, which makes them ripe for parody.
It seems that there are the easy targets, like Shaquille O'Neal, LeBron James and Kobe Bryant, that aren't necessarily easy to parody, but are easy to make funny of. But it's the lesser known or the harder to impersonate people that really make for a good parody.
The most recent parody of an NBA-related person was Saturday Night Live's Jay Pharoah's impersonation of Stephen A. Smith, which was one of the funniest things to come out of SNL in a while, but we'll have more on that a little later on.
Here are some of the funniest parodies of the NBA or people related to the NBA in recent memory.
Some of the following videos have some dirty words and stuff in them, so don't watch 'em if you're offended by that stuff.
8. Magic Johnson Hosts Jeopardy
Aries Spears of MADtv was good at portraying the hyperbolic version of what Magic Johnson was like originally on television, you know, back when Magic was at least interesting.
Now that Magic has gone from being a bumbling fool to a boring, toned-down analyst, he's not nearly as entertaining, but he's still just as uninformative.
Anyway, whenever MADtv got a hold of something they thought was remotely funny, they would beat it into the ground by dragging out a sketch about it too long, which seems to happen a bit with this one, but it's still pretty humorous in its own right.
7. Kobe's Postgame Meltdown
Funny or Die is one of the Internet's finest purveyors of hilariousness, which will often lead to gems like this one that just go above and beyond and have you rolling on the ground by the end of them.
This is James Davis in one of his many Kobe Bryant impersonations on the website, this time reacting to the Lakers' loss in the 2011 NBA playoffs.
Not only does he seem to capture the calm that is in Kobe so long as the Lakers are still playing, but he also seems to perfectly bring out the rage that Kobe holds back when his team loses.
6. Jeremy Lin Puns
This isn't necessarily a parody of any particular NBA-related person, but it's a parody of what was deemed to be acceptable in terms of racial puns and jokes during the Jeremy Lin explosion early in the season.
The SNL crew busts out every Asian stereotype they can think of during this clip, while any time the white dude on the end brings up an African-American stereotype the two sportscasters played by Kenan Thompson and Jay Pharoah freak out on him. Hilarity ensues.
Not only is this a particularly funny sketch, but it's also a pretty interesting social commentary on what is and isn't acceptable to say based on race, which makes it even funnier.
5. Shaq and the Super Lakers
One of the funniest sketches ever to come from MADtv that didn't have to deal with one of their actors playing an incomprehensible person (wait...Aries Spears plays Shaq, so I guess that's not true) is the cartoon Shaq and the Super Lakers.
While they do beat tasteless jokes into the ground like MADtv always did (Kobe rape jokes? Was half of this written by Internet trolls?) there are some quite funny moments in the Shaq and the Super Lakers series.
You've got to enjoy a basketball game depicted as Kobe Bryant floating around the entire time and Shaq endlessly putting the ball in the hoop as he is eye-to-eye with the rim with the Lakers winning 2,438 to 4.
4. LeBron James Joins the NWO
Another one that might not necessarily be a parody of the NBA, but rather a mixture of the NBA and the old WCW. But this just happens to be one of the funniest LeBron James Decision-related pieces of work on the Internet.
It's simple. It's crude. It's just too freaking brilliant.
The video depicts LeBron James as Hulk Hogan when Hulk turned over to the dark side in the WCW and joined the NWO as he's alongside Dwyane Wade as Scott Hall and Chris Bosh as Kevin Nash.
Throughout the entire bit, LeBron and his buddies beat up Moondog, the Cavaliers' mascot, Delonte West and a Cavaliers fan before Dan Gilbert comes into the ring (as Mean Gene) to talk to LeBron Hogan.
It's crazy how well the story line fits together and works out in unison with the story of the Hulkster turning into a heel all those years ago.
3. Stephen A. Smith on Weekend Update
This is the Stephen A. Smith impersonation by Jay Pharoah that has gotten so much attention in the past week, and for good reason.
Pharoah looks nothing like Smith in reality, but everything else he does is dead-on with Smith from the faux calmness with rage interludes to the incredulous look on his face to the ridiculous extent he goes to to tell us all that he's good friends with whatever player he's talking about.
This is one impersonation that I hope continues into next season for SNL. Now all they need is someone to bust out a good Skip Bayless impersonation and we can have a hell of a First and 10 skit.
2. South Park's LeBron James Spoof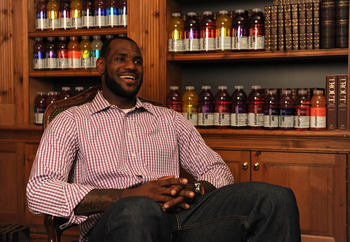 Larry Busacca/Getty Images
With South Park transitioning from being a crude cartoon about four dirty little boys and their town to being a slightly less crude cartoon about four dirty little boys that pumps out social commentary, it was only a matter of time before they took on LeBron James.
In this particular episode Cartman's super(villain)hero character The Coon parodies LeBron James "What should I do?" commercial with a little help from Captain Hindsight, Mysterion and BP's President to great affect.
There have been parodies on parodies on parodies of LeBron's now-infamous commercial, and when South Park takes it on you know it's going to be a classy look.
1. SNL's Inside the NBA
With what is easily the greatest thing to come from SNL in years, their Inside the NBA parody is nearly flawless.
With Bill Hader pulling off an excellent deadpan as Ernie Johnson, Jay Pharoah with the giggling, goofball take on Kenny Smith, Charles Barkley's guest-appearance as Shaq and Kenan Thompson's biggest redeeming character as the troublemaking Charles Barkley, the characters work together to create a mash-up of laughs.
This particular sketch is easily the funniest with Chuck playing Shaq interacting with Thompson playing Chuck, but it also gave us one of the most confusing moments in SNL history as Hader ends the show as EJ with the comment, "We're all black friends," sending snickers around the table. The best part about that is the real EJ busted out that line on Inside the NBAÂ a few weeks later.
If you are one of those Twitterers, you can follow me @JDorsey33.
Begin Slideshow
Keep Reading