All this talk about whether LeBron James or Dwyane Wade is more important to the Miami Heat's playoff success needs to stop.
How well the Heat do doesn't hinge on one player, or even two. Â Instead, it hinges on the motivation and inspiration that is at the foundation of their playoff push.
Up until Game 5 of the Heat's second-round series with the Pacers, the Heat looked like an unmotivated and unfocused team. Sure, they had evened the series at two games apiece, but they were still playing like they did in the regular season.
It wasn't until the flagrant two heard round the world that the Miami Heat finally woke up, and we have none other than Udonis Haslem to thank for thatâ€"well, Tyler Hansbrough gets some credit too, but you know what I mean.
The moment Haslem dropped the boom on Hansbrough is the exact moment the Heat woke up from their slumber and finally remembered what they're playing for.
They aren't playing for just an NBA title or another NBA Finals appearance.
The Heat aren't playing to silence critics or to help build anyone's legacy. Â Instead, they are playing because they love the game of basketball and because they care about each other like family.
Most importantly though, they're playing for each other, and Udonis Haslem reminded them of that.
Sure, it shouldn't take a somewhat dirty foul to remind guys like LeBron James and Dwyane Wade of thatâ€"but it did.
Haslem's foul reminded them that the man beside them is more important than the fans and critics sitting in the crowds.
The best part of Haslem's foul was that he had the guts to come out and tell everyone exactly why he did what he did. Yes, it was a dirty foulâ€"although it wasn't really that badâ€"but Haslem took responsibility for his actions and explained exactly why he did it.
Haslem told the Miami Herald that he fouled Hansbrough because, "I [Haslem] can't imagine anything I wouldn't do for Dwyane."  The concept of letting Wade get hit with a hard foul and doing nothing in return is foreign to Haslem and that's what makes him such a special player.
It's not about retaliation or being a dirty player for Haslem. Â It's about protecting the people he cares about, and that's something you don't see often in a league that is full of players who care more about their appearance and their egos than they do the player beside them on the court.
Here's what Haslem had to say after Dwyane Wade gave Haslem the game ball from Game 6, which had initially been given to Wade after a stellar 41-point performance to close out the Pacers.
"It felt like they did all that for me. I knew Dwyane was going to have a game like that. I knew. I know that guy. No doubt. None. No doubt. His sister, his kids, they are my family. His mother and my mother used to be friends. They had similar journeys. Drug addiction. His mom is like my extended mom. I know that guy, and I knew what Dwyane was going to do to Indiana."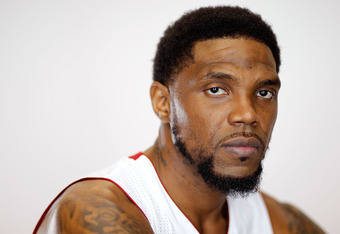 Mike Ehrmann/Getty Images
That's the kind of commitment that makes basketball such a special game. Â It helps develops relationships that extend beyond the court and into the reality that is our every day lives. Â In a weird and somewhat unexpected way, that's what Haslem's Game 5 blow to Hansbrough reminded every member of the Heat.
This postseason run isn't about LeBron chasing his first NBA ring, and it's not about Wade proving that he can win a championship with whoever he has on his team.
This postseason is about a group of guysâ€"with the world against themâ€"who just now remembered that they're playing because they love the game of basketball, and more importantly because they love each other.
That is exactly why Udonis Haslem is more important to the Heat's postseason success than LeBron James or Dwyane Wade.
If the Heat go on to hoist the 2012 Larry O'Brien Championship trophy, Haslem's flagrant foul and subsequent suspension will be remembered as a turning point for the Heat.
If they go on to lose in either the Eastern Conference finals or the NBA Finals, it will go down as the play that helped LeBron, Wade and the rest of the Heat remember why they play the game of basketball in the first place. Â