LeBron James has led the NBA in a meaningful basic statistic a grand total of ZERO times. You read that right, the Miami Heat's MVP and best player in the NBA has never led the league in in any of the 10 basic basketball statistics (based on total production). This begs the question: Is being good at everything better than being great at something?
For the sake of argument, the 10 statistics I'm talking about are points, offensive rebounds, defensive rebounds, total rebounds, assists, steals, blocks and the three-point shooting percentages.
For those who want to know, James led the NBA in points per game once, minutes per game once, total field goals made three times, total free throws made once and total minutes played twice.
If there was a major hole in LeBron James' game, other than the tired argument about his clutch statistics, it would be that he does not play with a consistent focus.
For a quarter or two he'll attack the basket and get to the free-throw line; but before we know it, he's back to standing around and shooting 20-foot jump shots again.
This year's playoffs illustrates my point perfectly. Against the Indiana Pacers in Game 2, he went to the free-throw line 13 times, pulled down nine rebounds, had five assists and six steals. In the very next game, he went to the free-throw line only three times, pulled in two less rebounds, two less assists and four less steals. That's when SuperBron showed up again.
In Game 4, he achieved playoff-highs in field goals (14-of-27), free-throw attempts (12-of-16), rebounds (18), assists (9), blocks (2) and points (40). Â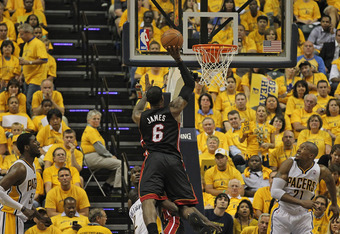 Jonathan Daniel/Getty Images
A glance through his regular season logs shows the same story. LeBron is all over the board with every single stat.
Is this inconsistency because he's a far superior player and is tailoring his game to what best fits that night's opponent? I give James a lot of credit, but I'm not going that far.
Great basketball players tend to excel at certain facets of the game. Sure, there are players who are capable of being great at something, but it's not beneficial to them or the team. James could win Defensive Player of the Year if he focused on that; but it comes at a price, and that's expending energy that could be used on the offensive end.
Before anyone points out that a guy like Oscar Robertson averaged a triple-double, so why can't James, let me offer this tidbit. The game was so different then, that Oscar Robertson averaged a triple-double while shooting 47.8 percent from the field and 80.3 percent from the free-throw line; and he finished third in the MVP voting. Different era; can't compare them objectively.
Wouldn't LeBron James and the Miami Heat benefit from him focusing on something? If it's scoring, let it be scoring. If it's defense, let Dwyane Wade take the scoring lead. If it's facilitating, Wade and Chris Bosh can pick up the slack.
The bottom line is: it's impossible to be SuperBron every single night. If he could focus his game more clearly and play within that role more consistently then he could have that ever-elusive NBA championship he so desires.
Like this article? Show your support by becoming my fan here on Bleacher Report and follow me on Twitter to be the first to know when my newest articles arrive!