We throw the word clutch around like it's nothing nowadays, but the truth of the matter is that everybody has a different perception of the word and what it truly means to be.
That being said, the Heat have been looking for an answer to this question since the formation of the Big Three in Miami: Who is more clutch, Dwyane Wade or LeBron James? Many people think this is an easy answer and point to Wade's performance in 2006 and the buzzer-beaters he has hit throughout his career.
However, my high school coach used to always say, "I want to know what have you done for me lately, not what have you done for me in the past." We have seen Kobe prove this recently as he taints his title as "the best closer in the game."
For the most part, people have identified and deemed Wade as the most clutch player on the Heat and as the guy who needs to have the ball in his hands in the fourth quarter. And as impressive as he's been in the past few games, LeBron James is the more clutch player. Now, hold on, pick your jaw up off the floor, and hear me out.
LeBron Is Bigger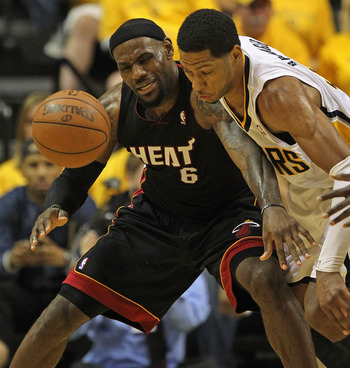 Jonathan Daniel/Getty Images
You can't teach size, and LeBron James has got a lot of it. His size enables him to see over double teams and find the open passing lanes better than most players in the NBA.
Often times, at the end of games, coaches try and put a taller defender on James in order to counteract his size. A bigger defender who, nine times out of 10, is much slower than the three-time MVP. 
And on the other side of things, if you try to put a smaller, quicker player on James not only will he probably still have the speed advantage, but as we know, he also has the size to bully defenders on the block, at the elbows or as he just bullies his way towards the basket.
He is the definition of a runaway freight train and nobody wants to get in front of that, even when the game is on the line.
LeBron Is a Better Play Maker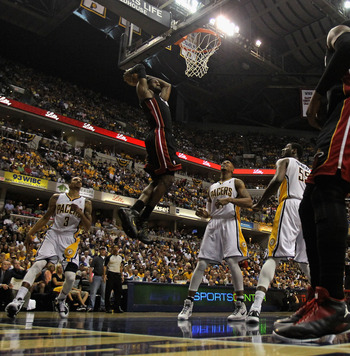 Jonathan Daniel/Getty Images
I mean, this one is not even a question. James is arguably the best playmaker in the league and is up there with the likes of Rajon Rondo and Chris Paul. He's definitely the best playmaker outside of the point guard position. 
This is just another reason LeBron should have the ball in his hands in the clutch. Although he is criticized when he makes the logical basketball play and gives the ball up when a double team comes, we have probably not heard the last of that type of criticism. However, logical basketball fans can understand his thought process.
LeBron has never been a selfish player and as much as the media wants him to be, he never will be. His game is much more similar to that of Magic's than Jordan's, which actually makes him even more dangerous in the clutch.
He can hurt you with his passing just as much as he can by scoring the ball himself. Defenders have to be prepared for more than just a drive to the basket or a pull-up jumper.
LeBron Is a Better Overall Player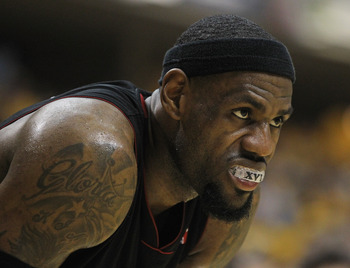 Jonathan Daniel/Getty Images
LeBron James is the best player in the NBA. He might just be the best player in the world. The NBA has never seen a player like him before.
Not only is there no reason he should not have the ball in his hands when the game is on the line, but there's no reason he should not succeed more times than he fails. Contrary to popular belief, James does just that.
The media has a way of twisting and turning things around, especially when they concern LeBron, and makes situations seems worse than they really are. If you look at the statistics it''s more than clear that James has the so-called clutch gene.
There should be no debate about whether or not the three-time MVP should have the ball with the game on the line. You might as well ask if you'd like to win or not. As good as Wade is, he just doesn't have the size and skill of James. Then again, nobody does.
LeBron Takes More High Percentage Shots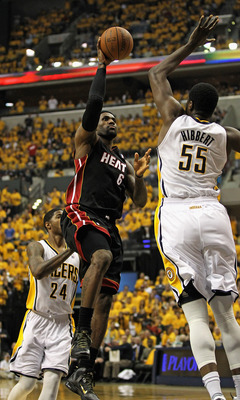 Jonathan Daniel/Getty Images
Not only in the clutch, but throughout the entire game, LeBron takes more high percentage shots than Dwyane Wade. Both post incredibly impressive shooting percentages, but Wade's buckets come a little harder than LeBron's, which makes sense. James can get the shot that he wants nine out of 10 times against any player in the league.
That being said, this is not a knock on Wade's game. The thing is, Wade has to work harder for his shots than LeBron. Sometimes his crazy shots result in great baskets that end up on SportsCenter's Top Ten. Other times you're scratching your head and asking yourself, "Why did he take that shot?"
James, on the other hand, with his new and improved post game can get high percentage shots more consistently than most players in the league. His jump shot is more reliable than Wade's and like I stated before, nobody wants to get in his way when he's attacking the basket.
LeBron Can Make Up for Mistakes with Athleticism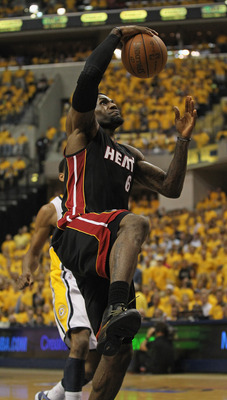 Jonathan Daniel/Getty Images
Even when LeBron does make mistakes, he quickly makes up for them with his athleticism. 
If he turns the ball over, he's likely to run you down and pin it on the backboard.
If he takes off a little bit farther than he anticipated, he's likely to make the adjustment in the air and still finish at the rim.
When you think you've got him beat on defense with your first step, he's right there back with you on your third.
The bottom line is this, James is arguably not only the best player in the NBA, but also the best athlete. With the game on the line, even if he can't get to the spot he wanted to, he's still got the elevation and size to rise over his defender. 
What he lacks in other areas (which is not a lot), he excels in a lot of other aspects of the game.
LeBron Is Back to Not Caring About What the Media Has to Say About the Last Shot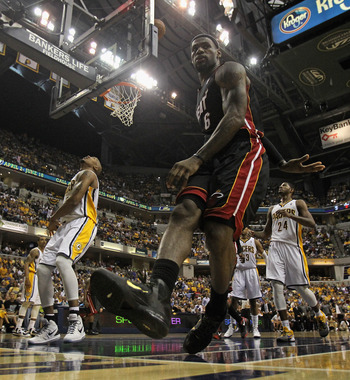 Jonathan Daniel/Getty Images
This year, LeBron James is a much different player than the one we saw last year, which is why Heat fans still have hope and faith in their team.
I'm not only talking physically but also mentally. His mental toughness continues to grow with each game, and it had to after the tough year he had with the Heat. Being booed in every arena can get taxing, even for LeBron.
James is back to having fun and that "you don't phase me" attitude, which is clearly working for him. He was too worried about the critics last year to get the job done in the Finals. However, this year we've seen a different LeBron, and he continues to prove to us that he's a different player as we get deeper and deeper into the playoffs.
Wade Is Predictable in the Clutch

Jonathan Daniel/Getty Images
Wade is quite predictable in the clutch, which results in him having to take and make harder shots with the clock winding down. With as much film as NBA players watch on their opponents, especially on superstars like Wade, defenders know what he's going to do before he does sometimes. 
With the ball in his hands in the clutch, Wade is only going to do a few things. What he wants to do first and foremost is find his spot and angle for the bank shot. It may not be pretty, but two points is two points. Arguably, he uses the glass better than anyone in the league today. Yes, I'm including Timmy.
If he doesn't try to find his spot so he can bank it in beware, because that means the step back is coming. Wade's step back is not what it used to be, but it is still very effective.
As good as No. 3 is, his moves are predictable (yet still hard to stop). LeBron has more in his arsenal and at his disposal when the game is on the line.
Wade Looks for Free Throws Instead of Buckets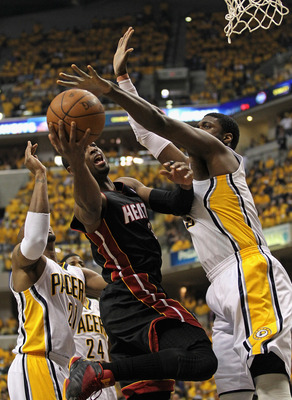 Jonathan Daniel/Getty Images
Building off of the previous slide, when Wade does indeed attack the basket in the clutch, he's not looking to score. He's really looking to draw the foul.
When there are refs willing to bail Wade out this looks genius. But when there aren't we just see a confused and frustrated Wade laying out on the floor with a disgusted look on his face and his nose pointed at the ref.
On top of that, he hasn't even been making his free throws like he should.
LeBron is not the one to attack the basket and wait for the ref to blow the whistle. He's going to attack hard and fast and try to finish through any contact there may be, whether the whistle is blown or not.
I don't know about you, but that's the kind of player I want with the ball in his hands with the game on the line.
Begin Slideshow
Keep Reading

Miami Heat: Like this team?