When LeBron James reaches his retirement, he'll go down as one of the best players to have ever played the game of basketball. Unfortunately for the ninth-year veteran, his legacy in the NBA will be forgettable, at best.
What makes James' legacy so intriguing is his extremely rare basketball skill set blended with the extraordinary expectations placed on him by the fans, the media and himself, as well. Remember, James chose to don the No.23 during his first seven seasons in the league, all with the Cleveland Cavaliers.
It was during those years in Cleveland that James was anointed as the next Michael Jordan, or perhaps even better than The Great One. Sports Illustrated sparked that notion, as the acclaimed magazine portrayed James on its illustrious cover as a high school junior, with the headline of "The Chosen One".
But after nine seasons as a professional, the basketball gods have declared James to be anything but the title that Sports Illustrated graced upon the 6'8", 250-pound behemoth.
James has failed to win a championship, despite having reached the NBA Finals twice in his career, first in 2007 with the Cavaliers, and again last season with the Miami Heat.
His first trip to the Finals arrived lacking expectations, as James' Cleveland squad was heavily outmatched by a veteran San Antonio Spurs team, which won the series 4-0.
Many think that James and his Miami Heat crew's failure to win last season's title was the first indication that maybe he just wasn't meant to be the next great player. They're mistaken. It was James' choice to leave Cleveland and join up with Dwyane Wade and Chrish Bosh that tainted his professional legacy.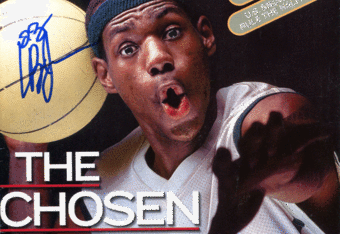 It signaled that James isn't a true competitor. None of the former greats would have teamed up with their arch-enemies. James did.
James' idol, Michael Jordan, publicly ripped him for doing so following the fiasco that was The Decision.
"There's no way, with hindsight, I would've ever called up Larry Bird, called up Magic Johnson and said, 'Hey, look, let's get together and play on one team.' ... In all honesty, I was trying to beat those guys."Â 
When the greatest player of all timeâ€"the man who won six NBA titlesâ€"lets it be known that James' decision was a choice he never would have made, you know that it was flat out wrong.
And the saddest part for James is that after declaring that he and "The Big Three" would win upwards of six championships, is that he may not earn a single ring while playing with Chris Bosh and Dwyane Wade.
Jordan remained loyal to the Chicago Bulls, and allowed for team management to build a winning team around him. James simply didn't have the same loyalty or patience for the Cleveland Cavaliers.
It does not matter if James ends his career with more MVP awards, scoring titles or even championships than Jordan. He will never be mentioned in the same breath as The Great One. He will never deserve that honor.
Hell, James still isn't sure if he feels comfortable with the ball in his hands in critical junctures. Jordan demanded the ball in those moments. He relished the opportunity to make plays in crunch time, and that is a significant part of what made Jordan's legacy such a sterling one.
It's tough to even say if James would play with the flu. We know Jordan did, and that will be forever remembered by those who witnessed it. 
James doesn't offer much to be witnessed, except a tainted a legacy.