LeBron James is no doubt the most polarizing player in all of basketball, perhaps in NBA history. 
It begs the question, if Miami were to win the NBA title this year, what would it do for LeBron's legacy? More importantly, how does that change the landscape of how we view the hierarchy of the greatest players to ever hit the hardwood? 
Basketball Reference currently has LeBron ranked 16th all-time, and this is a list that is continually voted on by fans. Other authors have placed LeBron at 15, 16, and 19. 
For now, I agree with that. At around 16th, LeBron's in the company of other superstars who were dominant but didn't win a ring, such as Charles Barkley, Elgin Baylor and Karl Malone. I would also argue that his overall effect on the game, having bits of Magic and Michael in his DNA, with his accomplishments could put him past guys who have won, like KG, Isaiah Thomas and Scottie Pippen.
What if Miami wins the title this year? There's no doubt LeBron leapfrogs Malone or Barkley. And I would absolutely put him ahead of one-time champions like Moses Malone and Oscar Robertson because LeBron's statistical accomplishments will no doubt dwarf theirs by the end of his career.
I'd even go as far as to say he'll be better than the best one-time champ ever, Jerry West, for his ability to carry undermanned teams and make everyone else so much better. 
What about Hakeem? Given that the Dream was the second greatest player of the 90's, and possibly the only reason he didn't win more than two titles was due to MJ's presence, I would have to say LeBron needs to win at least two to get past him.
Who's better?
LeBron (given 1 title)

Hakeem
The rest of it gets murkier. Shaq had four titles and his three-year peak with the Lakers in 2000-2002 was relatively just as dominant as any of LeBron's years. One title doesn't make LeBron greater than Bird or Magic. 
His current NBA contemporaries ahead of him, Tim Duncan and Kobe Bryant, have four and five respectively, and have held their own reigns as 'best player alive' and both completely dominated 2000-2010. So LeBron can't be ahead of them until he submits a decade that he puts his own stamp on. And of course, he's not close to the immortals like MJ, Bill Russell, or Kareem...yet.
The one guy he could pass with one title is Wilt Chamberlain. 
Some consider Wilt the greatest ever, and will consider that statement basketball heresy. LeBron could pass Wilt because their legacies are surprisingly comparable. Both were dominant physical specimens who had a knack for stuffing the stat sheet in eye-popping ways, but also coming up short when it counted.
If they both have one title, lets leave out the 'clutch' and 'winner' portions of the debate. Then, the matter of Lebron vs. Wilt would come down to statistics and individual accomplishments.
No doubt, The Big Dipper has some awesome numbers. 31,419 points, 23,924 rebounds, 4643 assists, 47859 minutes played, a true shooting percentage of 55 and a PER of 26.1 (fifth all-time).
Upon examining LeBron's numbers, it won't be close.
James currently ranks 2nd all-time in PER (27.24), and his TSP is 57% as I'm writing. 
At 27 years of age, he's currently scored 19,045 points. His 6-foot-9, 270-lb frame has made him almost impervious to injuries (he averages 79 games a season, save for the lockout season). Guys around his height also tend to age quite well, and his big frame will allow him to impact games even when his athleticism does subside.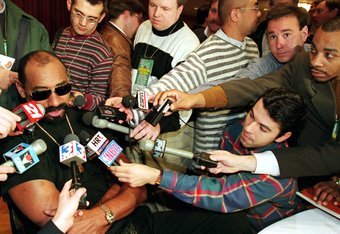 Like LeBron, Wilt was known for the multimedia routine
Brian Bahr/Getty Images
So, being conservative, lets say LeBron plays until he is 36, averaging slightly less than his career PPG (give him 26). Lets say nothing crazy happens, and he doesn't get hurt. Doing the math, he would score around 2,100 points per season, putting him at just under 38,000 points, or Kareem's scoring record. And that's being conservative.
It's completely expected and reasonable that he will at least continue dishing the ball at the pace he is at right now. Again, if he played till he was 36, he would be knocking on the door of around 10,000 assists, or good enough for Top Five all-time. If his assists get higher as his scoring dips, he could move into the Top Three.
And if he keeps rebounding at this pace, he will have nearly 10,000 rebounds as well, which places him in the Top 20, and Top Five among guys under 6'10.
He's won three MVP awards in nine years, and the award is his to lose every year unless something radical happens (Derrick Rose won it post-Decision, when the media was almost dogmatically disgusted with Lebron).
He'll make the All-NBA First Team almost every year until he's 35, giving him roughly 13-15, which would put him in contention with Kareem for most appearances all-time.
He's improving every year on defence, and he has a chance to crack ten All-NBA First Defense selections. He's consistently been in contention for DPOY, and one has to think he'll win the award eventually. For reference, MJ had nine All-NBA Defensive Team selections and one DPOY.
Most importantly, those who had the privilege of watching James play will see him have something in common with Michael, Magic, and Larry. That there will never be another LeBron James. Never will you watch a guy again and feel like some crazy witch doctor chose his favorite attributes of all the Top 20 players and mashed them into a 6'9 freak.
Verdict: Lebron James leapfrogs Malone, Barkley, West, Oscar, and Wilt Chamberlain to jump into the Top 10 All-Time Greatest NBA Players...if he wins a title. Â Â