Like any other NBA team would, the Miami Heat revolves around the decisions and playmaking abilities of LeBron James.
They go as far as he'll take them, which explains why a team with LeBron averaging 18 points is really bad compared to the team where LeBron is averaging 28 points per. There's a huge difference if this team reverses roles between James and Dwayne Wade because the team led by LeBron is always better than the team led by Wade.
After last year, it's assured that this team is going to continue being led by LeBron.
The Heat, like any other team in a similar position, is just better when they're being led by the league's top all-around player. When you have someone who is capable of averaging 35 points but chooses to dish out assists instead, you have an asset that you want to utilize to the fullest.
In order to embrace Heat culture, each player is going to have to complement their team's best player by making the adjustments to help LeBron excel.
We take a look at each Heat player and see how they could better complement LeBron next season.
Dwyane Wade: Moving Without the Ball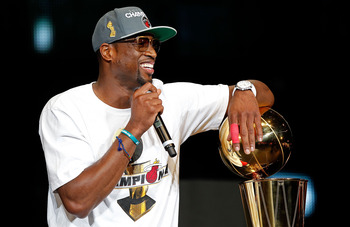 Mike Ehrmann/Getty Images
A situation the Miami Heat should have recognized earlier was the fact that LeBron James and Dwyane Wade wouldn't be at their most effective since they play with similar styles.
This is true.
However, only through constantly making adjustments were they finally able to grasp the concept of playing with a mirror image. Still, there is much to be done as they two have only uncovered the tip of the iceberg on how to make this experiment of theirs continue to work and excel.
With LeBron James being the "leader" of this team, it's going to be up to Wade to become the smarter player when it comes to playing off the ball. He has already adjusted well to the new environment he is a part of and has taken on the obstacle of learning how to play off the ball for the first time since early in his rookie season.
This team is at its absolute best when there is movement between the players, as well as the ball itself. It has been a proven fact that this team looks awful when Wade and James pass it to each along the perimeter and their three teammates peer off waiting for something to happen.
Fortunately for the Heat, Wade has adapted well to moving off the ball and cutting to the basket, which has led to the opposition getting wires crossed and failing to keep up with a much faster and athletic team.
As dynamic a slasher as Wade is, his ability to lull defenders to sleep and then make a cut to the basket has become one of his most valuable traits in an otherwise simplistic offense.
Chris Bosh: Pick-and-Roll
In the first two years of watching the Big Three, any fan of the Heat has been aggravated and frustrated by the lack of a go-to play.
There's plenty of talent throughout the roster, but the offense isn't complex at all. There's no definitive system, as the team attempts to score their points as fast as possible in the open-court, disallowing their opponent to get them into a half-court set.
When they are forced into playing in the half-court, they usually rely on high pick-and-roll's, cuts and the penetration of the slashers leading to open shots from the perimeter.
The pick-and-roll could be the most successful play the Heat employ, especially when it's run between LeBron James and Chris Bosh.
It's only natural that both defenders in the pick-and-roll end up paying more attention to LeBron than Bosh. Even when each defender ends up locked to their man, Bosh's exceptional speed for a power forward allows him to elude his defender and get into the teeth of the defense. Once he gets that close to the rim, he's nearly automatic.
Miami has to find a way to incorporate the James-Bosh more into the offense. It's not just an efficient play, but it's also an effective way of getting Bosh involved in the action. Too many times has Bosh been a bystander to Wade and James, while he stands idly by waiting for the ball.
He's too good of a player to be rendered useless every few plays and the coaching staff needs to involve him in the offense far more than they have the past two years.
Mario Chalmers: Avoid Mistakes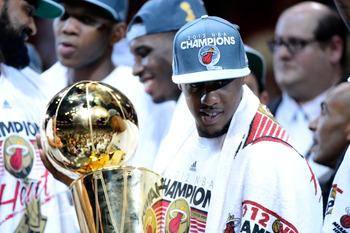 Ronald Martinez/Getty Images
For someone who was berated and criticized by his own teammates for an entire season, Mario Chalmers sure is one confident individual.
Chalmers doesn't deserve the verbal abuse that he hears from Wade and James, but he just keeps giving reasons for it to happen. He toned down the mistakes last year but was still caught in situations he shouldn't have been. You can find him getting berated usually for making a errant pass (he can't throw alley-oop's), not boxing out or just being blamed for something he didn't do.
There have been instances where Chalmers has been yelled at for no other reason than the frustration of his teammates. He is a pincushion for abuse.
However, Mario has also earned a lot of respect amongst his peers, especially after his gutsy Game 4 performance against Oklahoma City. His lack of fear of taking the big shot has impressed his teammates vastly, even to the point of Dwyane Wade saying he thinks Chalmers is the best player on the team.
On a team like this, especially when you're constantly being yelled at for unspecific reasons sometimes, confidence is key and Chalmers has just as much of it than any other player in the NBA.
As long as Chalmers is making the smart, fundamental plays, he will keep James's blood pressure to a minimum.
Shane Battier: Defending the Four

Ronald Martinez/Getty Images
Needless to say, I find it invigorating knowing that Shane Battier may have been the best free agent signing a team made in the 2011 offseason.
Not Richard Hamilton to the Bulls, but Battier to the Heat.
This wasn't just a move to vastly improve the Heat's already stout defense. This deal happened primarily because the Heat didn't want LeBron James doing absolutely everything on the court.
After years of putting his body to the test in Cleveland and then doing the same in his first year with the Heat, the organization decided to get him some help.
And help they got him in the form of a defensive specialist in Shane Battier.
One of the league's top perimeter defenders, Battier was called in to give some relief to James on the defensive end of the floor. The year before, the Heat had the likes of an ailing Mike Miller or James Jones as one of their first small forwards off the bench so adding Battier was a definite upgrade.
In the end, Battier's defensive help on the likes of Carmelo Anthony, Danny Granger, Paul Pierce and Kevin Durant, as well as his three-point shooting, turned out to be a key factor in James being able to save up energy that he didn't have to utilize furiously on the defensive end.
What Battier needs to improve on for next season is his work at defending the four.
He was incredible at it last year and it's more than likely the Heat will ask the same in the coming playoffs. With the Heat wanting James to spend more time defending a position that isn't "taxing" to him, it'll be up to Battier to continue defending four's well and drawing them to the perimeter.
Ray Allen: Be Useful on the Defensive End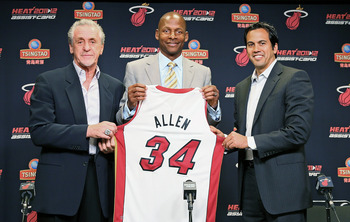 Mike Ehrmann/Getty Images
While the Heat completely embrace the idea of LeBron James being their leader on both ends of the floor, they also carefully monitor his minutes at each position he plays to make sure that he doesn't exhaust himself by the end of the fourth quarter.
That was a large reason why they ended up obtaining Battier. Now the Heat obtained Ray Allen as a means to prolong Dwyane Wade's career and hold out hope that the 30-year-old can return from an injury-plagued 2011-12 campaign. Wade missed 17 games in the regular season and was hampered throughout the playoffs.
Allen joins this team for the obvious purpose of shooting and converting three-pointers. However, there has been some animosity surrounding his role on the defensive end.
As a 38-year-old, he doesn't exactly fit into the Heat dynamic of being athletic, quick and tough on that end of the floor. While he's not too bad of a defender for someone of his age, he still hardly compares to defenders like Battier, James and Wade.
To make life easier for James, Allen will need to find a way to involve himself on defense so that James doesn't exhaust himself accounting not just for his assignment, but for Ray's as well.
Allen has averaged at least a steal per the past two seasons and will most likely be put in a position where he's defending the opposing team's last offensive threat. However, the Heat want to be ready for all situations, which means that Allen will be looked upon to hold his own against the opposition.
Luckily for Ray, this team relies more on the team aspect of defense rather than its individuals.
Rashard Lewis: Consistently Be Able to Hit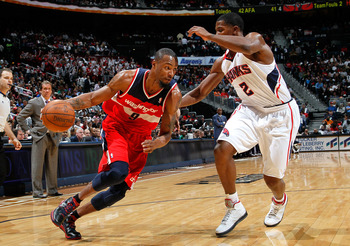 Kevin C. Cox/Getty Images
I have been a little reluctant describing how Rashard Lewis is going to work with the Miami Heat.
It doesn't feel right to say that Lewis is already a part of the rotation. As good a shooter as he may have been, he is still a 33-year-old with bad knees coming off two injury-riddled years in Washington. This past season had Lewis playing in only 28 games, averaging 7.8 points and converting only 24 percent of his shots from beyond the arc.
Lewis is a career 39 percent shooter from deep but, when 33-year-olds have struggled mightily in their two previous seasons, it's natural to be a bit reluctant to say that they're automatically back because they're in a better situation and have had an offseason's worth of rest.
Outside of the team needing him to have some sort of effect on defense and on the boards, they're going to be expecting him to be a big man who can come off the bench and space the floor with his shot.
He'll be greatly aided by the influence of James and, like every other three-point shooter on this team, he'll be expected to make the opportunities he garners.
Lewis simply being 6'10" and containing the ability to shoot is a huge positive for the Heat and they want to use that as much as possible when Chris Bosh is on the bench. In order for him to get minutes, however, he'll have to show that he still has a little bit of Seattle left in him.
Norris Cole: Allow LeBron to Control the Tempo

Mike Ehrmann/Getty Images
Remember how quick that Norris Cole craze died out a few weeks after that magical home opener against Boston?
Do you know why it happened? Not only because his mid-range fell off, but because Cole plays at a tempo that is only his own. He plays with extraordinarily quick speed and always appears to be shot out of a cannon when he's running his one-man-fastbreak.
The problem with that is it doesn't allow his teammates to get involved while simultaneously loweirng his confidence when he finds himself in situations where he can't convert.
The last thing you want from your rookie is for him to lose his confidence, but it happened near the middle of the season and Cole fell out of rotation. It wasn't until the NBA Finals where we finally got to experience some more of the speedster out of Cleveland State.
When he's on the same floor as James, he can't play out of control because it causes the offense to lose its rhythm.
More importantly, however, is that it doesn't allow James to dictate the show. The Heat want James to control the tempo of the game, rather than the second-year guard who may have come off too confident for his own good.
Cole is a huge asset for the Heat. He's a tough defender, works well within the system when he's not playing out of control and has a solid mid-range jumper. He's a natural-born scorer and that's going to work well when the Heat look upon him to make jumpers with his mid-range game.
Udonis Haslem: Stretch the Floor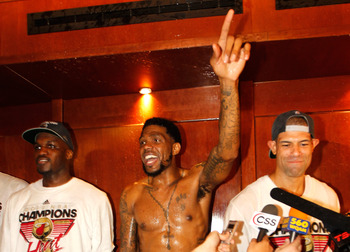 Mike Ehrmann/Getty Images
This was a key component to the Heat's offense that they were desperately missing last year.
We're still not sure of just why Udonis Haslem struggled so mightily with his shot, averaging a mere six points per game on 42 percent shooting. The greatest theory to put to this would be the torn ligament in his foot that was suffered in an early season game the year before. Haslem was rushed back in the Conference Finals as a boost against Chicago, but looked far better then than how he did in the 2011-12 season.
He even claimed to be nearing perfect health prior to the start of the season, yet he came in without his usual lift and without the patented jumper.
Obviously, this hurt LeBron James and the rest of the team.
While the team has carved out a spot for Haslem in the rotation for his defensive tenacity and rebounding ability, he became nearly useless on offense because of his lack of a shot. Haslem isn't typically the player to drive or post up, he's a jump shooter that thrives from 10 to 15 feet out.
Last year, however, Haslem couldn't get anything going and it wasn't until much later in the season that he finally got a grasp on his shot.
In order to better himself to complement LeBron, Haslem is going to have to simply make those jumpers on the baseline and off the pick-and-roll. He can be extremely valuable in the Heat's system but he has to finish the easy shots the team is giving to him.
Mike Miller: The Trailing Three-Pointer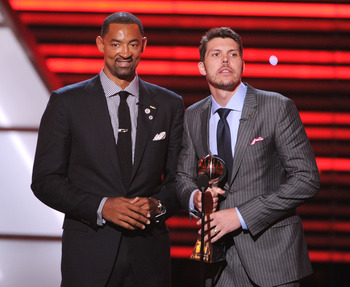 Kevin Winter/Getty Images
Somehow, Mike Miller is going to find a way to put on a Miami Heat uniform, hobble to the sidelines and then find his way into a professional basketball game.
By skipping season-ending back surgery, which also could have put an end to his career, Miller has simply used rest and relaxation as a natural elixir to stave off the aches and pains that have taken over his life.
Yet he's still around and the Heat are going to use him. We all saw what happened in Game 5 of the NBA Finals. The capability is still there but it's going to be up to the team to find ways to get more games like that out of Miller, rather than what they did in the NBA Finals with Miller prior to that game. Coach Spoelstra would throw Miller out for a few minutes, see if he could make a few shots and then take him out once he didn't.
In Game 5, he just happened to start making three-pointers, which is why he ended up playing more in that game than he did in the first four games of the series combined.
The Heat aren't going to expect much out of Miller. But, when he's in a lineup with the three-time MVP leading the fastbreak, Miller will painstakingly trail and wait along the perimeter for a shot.
Although James will more than likely take it to the cup, having Miller as the trailer with no attention being paid to him would be extremely dangerous.
James Jones: Not Making LeBron Work as Hard on Defense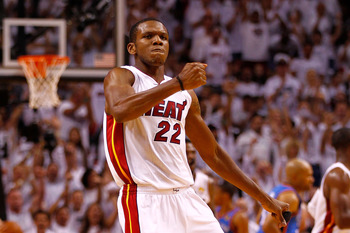 Mike Ehrmann/Getty Images
I know it'll pain Heat fans to not hear the deafening and bellowing PA announcer Michael Biamonte belt out his name, but it seems that James Jones spot in the rotation is going, going and finally gone.
If Jones could barely get on the floor last year, what makes you think he'll get on the floor with the team adding Ray Allen, Rashard Lewis and possibly even Mike Miller, who just recently claimed to be feeling healthy.
Sad, I know, but Jones' shot meant nothing to the Heat once they got a look at his defensive capabilities. As much help as this team would like to have along the perimeter to space the floor on offense, Jones is too much of a liability on the defensive end to cancel it out with a few three-pointers. He can't stay in front of his man and doesn't have the quick hands which allows guys like Mario Chalmers to thrive, despite not being the best one-on-one defender.
It probably won't end up happening, but if James wants to complement LeBron, he'll have to vastly improve his defense as an individual and as a part of the team, which works together in synchronization. The defense is said to resemble five players on one string working together, constantly rotating and forcing the opposition to take a rushed shot.
Jones is a chink in the chain and his lack of defensive tools cause LeBron, who will be playing at the four or three depending on if Jones is at the two or three, to have to make up for the lost work that James left behind because he can't keep his man in front of him.
Joel Anthony: Become an Inside Presence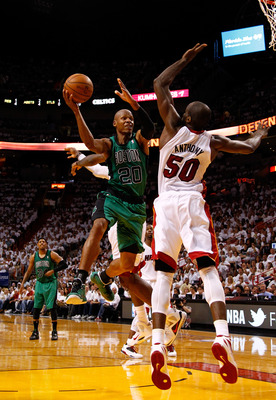 Mike Ehrmann/Getty Images
Whether the Heat's fanbase likes it or not, Joel Anthony's spot in the rotation could be in dire jeopardy.
After a forgetful NBA Finals, as well as his team making strides in free agency by signing power forward Rashard Lewis and giving potential power forwards and centers a look, Joel is becoming more and more obsolete as the Heat uncover new answers to run their offense.
Anthony has been a liability on the offensive end. Although he showed some improvement with a decent hook shot, he's still hardly a player worth recognizing by the opposing defense. His assignment is better suited in helping double team with LeBron James rather than wasting time and idly standing by a player with such a limited offensive repertoire.
What Joel needs to improve on, in order to better complement James, would be his offensive game, obviously.
There's no doubt that Anthony is an incredible defender with extraordinary shot-blocking skills. However, his offense cancels it out because the team is forced to play 5-on-4, which ends up putting far more pressure on the perimeter where James is usually developing a play. Anthony's role in the offense is nothing more than being able to catch and finish, which has been a problem in the past.
However, he can make up for it with a more refined offensive repertoire. At the age of 30, however, that may just be wishful thinking.
Dexter Pittman: Don't Stop the Game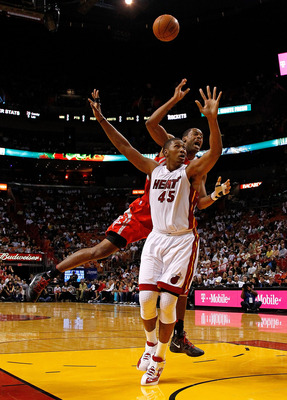 Mike Ehrmann/Getty Images
Depending on how well he can impress the coaching staff, Dexter Pittman could find himself either playing a decent amount of minutes alongside James or none at all.
It's up to Pittman if he wants the job. Even though Pat Riley said that he would guarantee Pittman's contract, the lack of improvement he showcased in the summer league was a cause for concern, which was inevitably led to the Heat making non-guaranteed signings of power forwards/centers in Mickell Gladness, Jarvis Varnado and Josh Harrellson.
They've also worked out Andray Blatche, Chris Andersen, Hassan Whiteside and Sean Williams.
In order for Pittman to earn these minutes to avoid possibly being on the outside looking in, he's going to need to limit his fouls and increase his rebounding numbers. He was constantly in foul trouble last year, averaging an absurd 8.7 per 36 minutes, and even suffered in the summer league after averaging over five personal fouls per contest.
If Pittman does find his way on the court, he needs to make sure the game doesn't stop because of him. He can't be overly aggressive going for rebounds and can't foul opposing rebounders for the sake of grabbing a board that's already been taken down. When he does so, he slows down the entire game and takes the Heat out of their rhythm.
Also, he'll have to be some sort of presence on the inside. His footwork is surprisingly good but the only problem is that we never get to see it because he's riding the bench after picking up two fouls in five minutes.
Begin Slideshow
Keep Reading

Miami Heat: Like this team?